These free, printable travel maps of Puerto Rico are divided into seven regions:
Explore Puerto Rico with these helpful travel maps from Moon.
---
Travel Maps of Puerto Rico
---
San Juan
Situated on the northeast coast, sophisticated, fast-paced San Juan is Puerto Rico's capital and largest city. Its heart is Old San Juan, the original walled city founded by Spanish settlers in 1521, home to two fortresses: Castillo San Felipe del Morro and Castillo de San Cristóbal.
---
Puerto Rico's East Coast
The east coast contains Puerto Rico's most popular tourist sight, El Yunque Caribbean National Forest, a 28,000-acre nature preserve in the Sierra de Luquillo.
---
Puerto Rico's South Coast
Ponce, the island's second-largest city outside of metropolitan San Juan, was once a wealthy international port and a major player in the sugar and coffee industries.
---
Puerto Rico's West Coast
Within the west coast region are the fun-loving surf towns of Isabela, Rincón, and Aguadilla; the colonial cities of Mayagüez and San Germán; the fishing village of Boquerón; the bioluminescent bay in La Parguera; and the salt flats of Cabo Rojo. In addition to being a major destination for surfing and diving, the west coast has one of the island's loveliest public beaches, Balneario de Boquerón.
---
Puerto Rico's North Coast
Much of the north coast is karst country, distinguished by limestone hills and caves, which makes for lots of rocky beaches and seaside cliffs. But there are two terrific sandy beaches—Balneario Cerro Gordo in Vega Alta and Playa Mar Chiquita in Manatí. Perhaps the biggest draw on this coast is Las Cavernas del Río Camuy, a gorgeous cave park featuring hikes through enormous caverns by a subterranean river.]
---
Cordillera Central
The central mountain region is a wonderland of natural beauty and Taíno Indian culture. La Ruta Panorámica is a well-marked route that takes visitors on a scenic tour through the region. Bosque Estatal de Toro Negro, in the center of the region, contains the island's highest peak.
---
Vieques and Culebra
Vieques and Culebra are two small islands off the main island's east coast. Both offer some of the best wilderness beaches to be found in Puerto Rico—if not the entire Caribbean. Balneario Sun Bay in Vieques is a mile-long sandy crescent on crystal-blue waters. Playa Flamenco on Culebra is considered one of the best beaches in the United States. Both islands are renowned for their spectacular diving and snorkeling.
---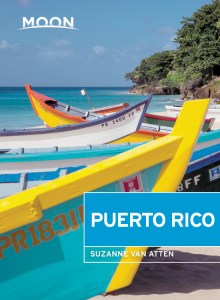 Relax beneath palm trees, kayak through bioluminescent bays, or dance the night away to the sounds of salsa: Experience the Island of Enchantment with Moon Puerto Rico.